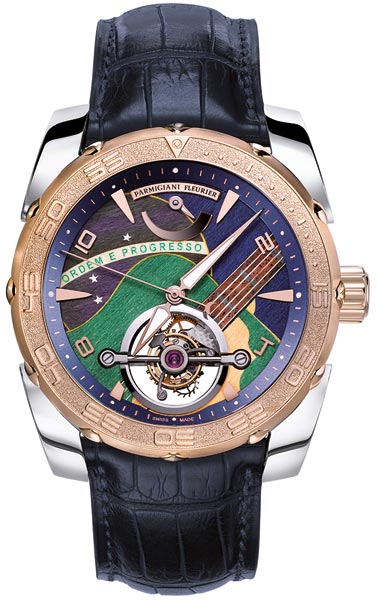 Time leaves its tracks
...even in the design of watches such as seen at Parmigiani's 'Pershing Tourbillon Samba Madeira' which pays homage to FIFA World Cup 2014 in Brazil, the country's vibrating colors and the rhythm of samba.
The countdown runs! Today, 37 days are left to the start of the World Cup on 12 June 2014 when the football match Brazil:Croatia at the Arena de Sao Paulo will bring sport fans in front of streaming devices - TV or computers like smartphones or tablets.
Parmigiani's view on the World Cup Brazil is multi-layered: the dial design 'Gibson and Brazil' (Gibson after the guitar maker) references the colors of the flag with white stars and the motto 'Ordem e Progresso' (Order and Progress). Below the writing and visually one layer above the color fields, the watchmaker positioned guitar strings with rosette. The guitar's construction becomes an integral part of the mechanics of the watch; just as the watch 'Pershing Tourbillon Samba Madeira' ticks Brazilian samba notes - for ever and ever.
Whatever all of the reasons are that the upcoming World Cup Brazil leaves so many visual marks in fashion; the samba is one of the causes for the people's fascination.


more collections>


Related article:
Shoes in the colors of the Brazilian flag