31 May 2017

Freitag recycled truck tarps for MacBook sleeves 11"-15"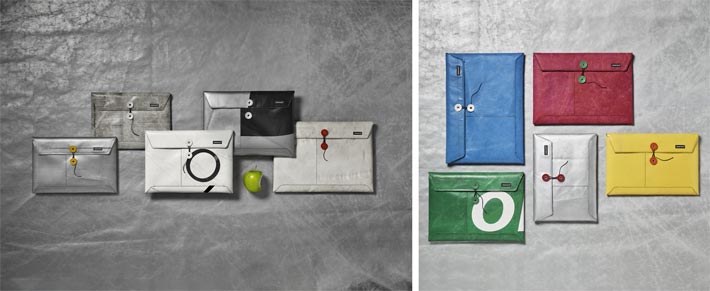 Swiss label Freitag is a recycling pioneer and reworks the street style of trucks into bags and accessories. The unique items are made from truck tarpaulins and haven't visually too much in common (the colors, the patterns are changing) except the sizes, the authentic street style and the logo of Freitag which is one sign in the streets of Vienna that stands for a relaxed and conscious, environmental friendly lifestyle.
Freitag are obviously Apple fans. When searching on Freitag.ch for 'sleeves', mainly products for Apple products such as iPhones or MacBooks will be shown. The collection of sleeves in envelope-like design for MacBooks was recently extended. Freitag sent the information that they've added two new sizes to the range: 12" & Pro 13". Normally, the logo of Freitag is on the front side of bags, sleeves or accessories. At the new items of upholstered MacBook sleeves, the logo is placed on the other side right beneath the two-buttons-thread closure - which makes the back side the new front side.
fig.: Images of the range of MacBooks sleeves by Freitag - F401, F405 (for 12"), F410 (for Pro 13"), F411, F421. Photos: Oliver Nanzig.


more collections>