19 April 2017

Culinary & cycling 'Tour d'Autriche' 2017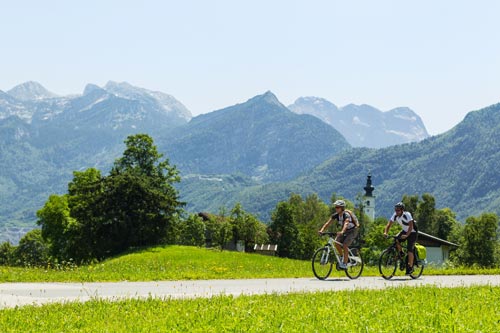 Recently, Austria.info published a new collection of cycling tours under the motto 'Tour de Austria' in 9 chapters after the country's nine provinces from urban routes in the east of Austria in Vienna (capital city and one of the provinces) to lake tours such as in the west at lake Constance (Bodensee) in Vorarlberg. One of the provinces in between Vienna and Vorarlberg is Salzburg where at the region Tennengau (image) cycling to alpine lakes and huts inclusively culinary expeditions is on the current program.
The 'Cheese Tour' is a soft challenge over around 21 kilometers from Kuchl, Golling, Bad Vigaun to sources where Austrian cheese comes from and back again to Kuchl where the cheese maker 'Bio-Hofkäserei Fürstenhof' is located; the cheesery is one of the culinary destinations of the tour.
For the ones who are well trained in mountain biking, Austria.info recommends the 3-days Salzburg Alps Tour (Salzburg Almen Tour; almentour.com) over a distance of 147 kilometers and 4,170 meters height difference on forest roads, asphalt and unsurfaced trails through the Tennengau area. The luggage of the participants will be transported with a shuttle service to the night stops.
These are only two recommendations from this year's extensive possibilties of routes for a 'Tour d'Autriche'.
Fashionoffice tip for the ones who plan to visit Vienna: don't miss the lake Neusiedl tour in Burgenland! Lake Neusiedl can be reached in around 40 minutes from Vienna. It's a tour on flat land (no mountains); this part of Austria belongs to the Pannonian basin.
fig.: Images of two cyclists at the Tennengau region in Salzburg. Photo by Salzburger Land Tourismus; (C) Markus Greber.